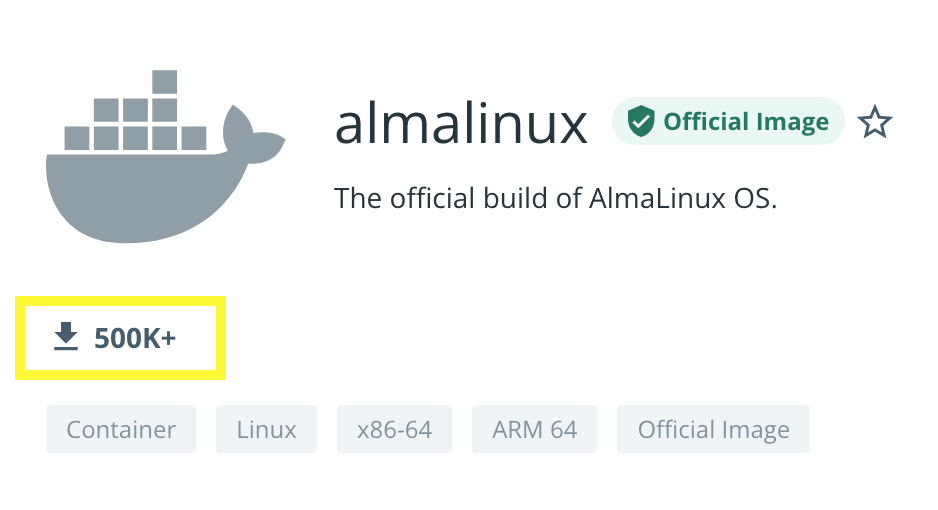 Thank you to our amazing community and congratulations on 500K+ Docker Pulls! What a marvelous milestone!
It seems like just a short time ago, we celebrated 100K Docker pulls together (check out this post on Reddit). Now that we've hit 500K+ pulls of our Docker Library Official Image, we'd like to take this opportunity to thank you again. We're truly humbled by the support we've gotten from the community.
The reward for loving containers is… more containers!
We have a whole raft of images available on Docker Hub and other registries as well. Here's a short list in case you'd like to check some of them out.
Default: Is a general purpose (platform) container image that contains default packages and can be used as a drop-in replacement for the CentOS 8 image.
Minimal: A minimal, compacted image that contains a limited package set and uses the microdnf package manager. It is designed for applications that come with their dependencies bundled like GO, NodeJS, Java. Note: This image is also UBI-alternative.
Eager to have some more info about AlmaLinux container images? Need links to repositories and image tags? Check the AlmaLinux Wiki.
Did we forget to thank you? We'd like to say thank you very much to our worldwide Community members. We appreciate all your contributions, efforts and support. You are awesome!
Interested in containers? Looking for something you need? Want to contribute? Join our Containers and Cloud SIG on the AlmaLinux Community Chat. We're waiting for you. ;)